The Philips digital voice recorders deliver the best audio quality in any recording situation. The Philips voice recorders offer robust yet lightweight stainless steel design offers perfect ergonomics for working over longer periods of time. Digital dictation systems are a great way to streamline your workload. Learn more about Philips digital dictation recorders below, and be sure to browse all our digital dictation equipment, including Olympus voice recorders.
$

848.00
The Philips DPM8000 Digital Voice Recorder and Digital LFH7277 SpeechExec Pro Transcription Kit are combined in this easy to use highly advanced transcription solution.
$

150.00
The Philips LFH0743 SpeechExec app is designed to fit perfectly into the Philips SpeechExec Enterprise suite. Recording, editing, and sending dictation files from your iPhone offers mobile flexibility and reduces document turnaround times.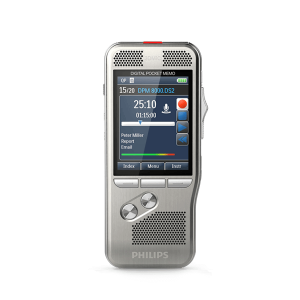 $

499.99
The Philips Digital Pocket Memo 8000 Digital Dictation Voice Recorder takes dictation to a new level. Breakthrough 3D microphone technology delivers the best audio quality in any recording situation. Learn more about this Philips voice recorder below.