DAX Copilot - Dragon Ambient eXperience
Fully Automated Clinical Documentation
DAX Copilot is an AI-powered voice-enabled solution that combines proven conversational and ambient AI with the most advanced generative AI to automatically document care.
Real Results With DAX Copilot
70%
Less Time Spent on
Clinical Documentation
On average, clinicians saved 7 minutes per encounter, resulting in a 92% improvement in the overall experience of documenting care.
85%
Better Experience
Providing Patient Care
An overwhelming 70% of clinicians reported a reduction in feelings of burnout and fatigue when they were able to focus just on patient care.
90%
Improvement in
Documentation Quality
Using DAX Copilot, clinicians were able to capture 75% more information and reduce errors to improve documentation quality and compliance.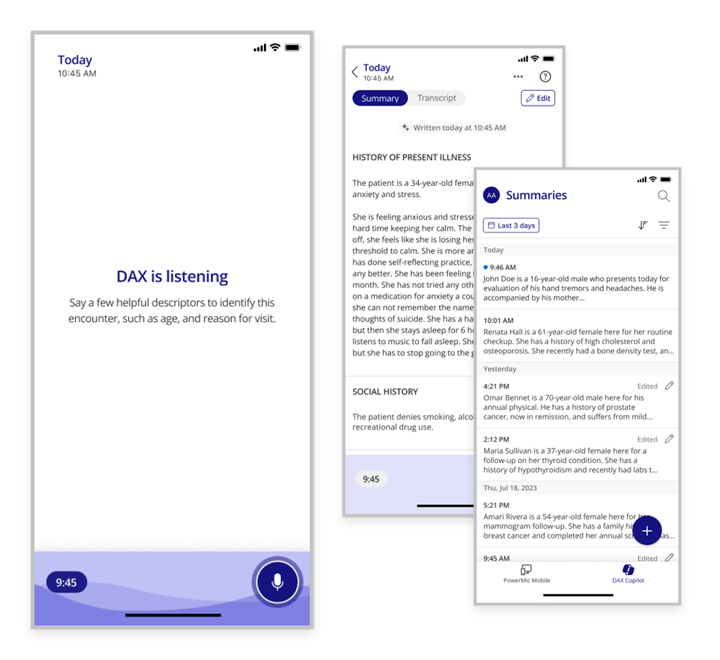 Clinical Summaries Available in Seconds
Using the most advanced AI technology, DAX Copilot seamlessly records and transcribes the conversations between patients and clinicians.
The recorded conversations are then automatically converted into comprehensive summaries, providing fully automated AI notes for clinician review and editing.
Whether using the DAX iOS mobile app or the DAX Copilot window in Dragon Medical One, clinicians can easily access and edit these notes immediately after each patient encounter.
Then with a single voice command or direct insert on desktop notes can be transferred directly to the EHR.
Experience Better Healthcare
Capture Conversation
Engage in natural, free-flowing conversations with patients and their families while a mobile app seamlessly captures and transcribes the conversation in real-time.
Fully Automatic
Turn multi-party conversations into comprehensive clinical documentation summaries automatically. Then with just a few clicks, summaries are ready for review and signature.
Amazing Accuracy
Expertly trained on over 10 million real world encounters and the ability to learn from future encounters ensures that the documentation produced is consistently accurate.
Seamless Integration
Seamlessly integrates with over 200+ Electronic Health Record (EHR) systems, providing healthcare providers with a streamlined implementation process and reducing their burden.
Custom Templates
With the ability to customize templates, it ensures consistency in documentation, resulting in a streamlined workflow, and eliminates the need to manually modify templates.
Secure & Trusted
Built on the trusted Microsoft Azure platform, DAX Copilot utilizes industry-leading security protocols and infrastructure to ensure that the captured data is protected.
Calculate Your Potential Time Savings
85 Patients
10 Minutes Per Patient
Time Saved Per Day: 2 Hours
Time Saved Per Week: 10 Hours
Time Saved Per Month: 40 Hours
Frequently Asked Questions
What is DAX Copilot?
DAX Copilot is a fully automated clinical documentation solution that focuses on improving healthcare experiences, outcomes, and efficiency. This innovative tool streamlines the documentation process, allowing doctors to spend more time with patients and less time on administrative tasks.
Who Uses DAX Copilot?
DAX Copilot is an invaluable tool for healthcare providers who are seeking to streamline their documentation and enhance clinical efficiency. With its user-friendly interface and comprehensive features, this software is particularly well-suited for physicians, nurses, and other clinical staff.
How Does DAX Copilot Work?
By combining proven conversational and ambient AI with the most advanced generative AI, DAX Copilot automatically captures and records conversations. These recorded conversations are then transformed into comprehensive summaries ready for review before being sent directly to the EHR.
What Are The Benefits of DAX Copilot?
By automating the process of documenting patient encounters, DAX Copilot allows physicians to save time and focus more on delivering quality care. This innovative technology has been shown to improve clinical efficiency, physician and patient satisfaction, and even financial outcomes.