FEATURED CATEGORIES
Browse the most popular categories as selected by our customers that feature the industry's
best dictation and transcription products, and speech recognition software.
FEATURED PRODUCTS
Shop the best-selling, highest rated, and most purchased dictation and transcription
equipment and software chosen by our experts and customers.
Advanced AI-Powered Clinical Documentation
Dragon Ambient eXperience (DAX) Copilot completely automates the documentation process, freeing up valuable time that can be spent on direct patient care.
With its advanced capabilities and user-friendly interface, this solution is transforming the way healthcare professionals work and improving outcomes across the board.
ABOUT US
Total Voice Technologies
We have been providing quality dictation and transcription solutions since 1990. More than 6,000 customers have to come to us with their dictation and transcription equipment and software needs.
We're also proud to have become the top reseller in the United States for Dragon Medical, the #1 clinical speech recognition software in the world.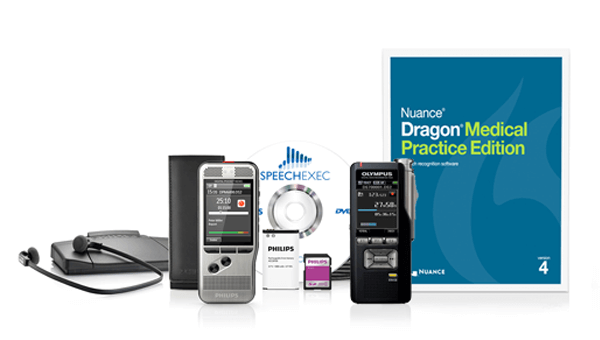 OUR LATEST POSTS
We are industry experts that enjoy sharing our industry knowledge, the newest products, and
the latest updates on innovative technology to make your work and life easier.
Today patients are demanding more from their healthcare professionals. Quality of service, more information, a...
Improving patient experience is a key priority for healthcare providers. By focusing on enhancing the overall ...
In the fast-paced world of healthcare, mobility is key. Doctors are constantly on the move, attending to patie...