Nuance
Dragon Medical
Practice Edition
Powered by the latest in speech recognition technology,
Nuance Dragon Medical Practice Edition 4 achieves
99% accuracy out of the box.
Philips
DPM8000 Digital
Voice Recorder
The PocketMemo voice recorder takes dictation to
a new level. Breakthrough 3D Mic technology delivers
best audio quality in any recording situation.
Olympus
DS-9500 Digital
Voice Recorder
The DS-9500 offers workflow simplicity through WiFi
connectivity, intelligent dual microphone noise cancellation
technology, and impact resistant certification.
Nuance
Dragon Medical
One
Take Your Dictation to the Cloud.
Nuance
PowerMic III
USB Microphone
Nuance PowerMic III advances PC dictation to a
new level with recording and voice control of navigation,
streamlining user workflow for review and editing.
FEATURED CATEGORIES
The highest rated dictation and transcription equipment retailer offering only the most reliable and highest quality products.
FEATURED PRODUCTS
The best-selling dictation and transcription equipment, and the top-rated voice recognition software in the world.
The World is Your Workstation
Dragon Medical One
The patient story should be dictated by clinicians – not technology limitations. The Nuance Dragon Medical One platform includes industry-leading speech dictation software in the cloud so your staff can be productive anywhere. Clinicians produce documentation up to 45% faster and capture up to 20% more relevant content.
ABOUT US
Total Voice Technologies
We have been in the speech recognition, dictation and transcription software industry since 1990. We specialize in providing professional dictation equipment, transcription equipment, and Dragon speech recognition software.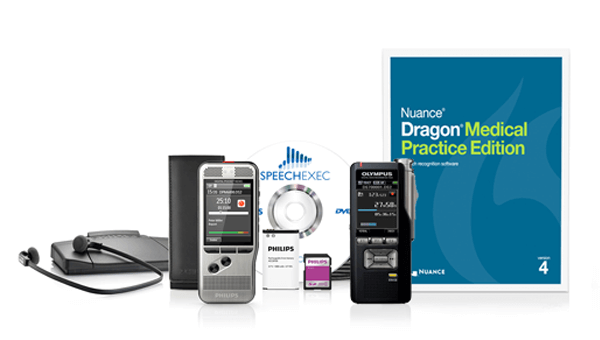 OUR LATEST POSTS
We are industry experts providing innovative voice technology and support to make your work and life easier.
Speech recognition is often mistaken for voice recognition. Speech recognition is when a computer program identifies different words th...
Transcriptions demand time, precision and accuracy. Most transcription professionals rely on quality control process, which greatly red...
Since its inception, speech recognition technology has evolved in a major way. We all know that it improves mobility, enhances efficien...