Nuance
Dragon Medical Practice Edition
Powered by the latest in speech recognition technology,
Nuance Dragon Medical Practice Edition 4 achieves
99% accuracy out of the box.
Olympus
DS-9500 Digital Voice Recorder
The DS-9500 offers workflow simplicity through WiFi
connectivity, intelligent dual microphone noise cancellation
technology, and impact resistant certification.
Nuance
PowerMic III USB Microphone
Nuance PowerMic III advances PC dictation to a
new level with recording and voice control of navigation,
streamlining user workflow for review and editing.
FEATURED CATEGORIES
Browse the most popular categories as selected by our customers that feature the industry's
best dictation and transcription products, and speech recognition software.
FEATURED PRODUCTS
Shop the best-selling, highest rated, and most purchased dictation and transcription
equipment and software chosen by our experts and over 5,000 customers.
The World is Your Workstation
Dragon Medical One
The patient story should be dictated by clinicians – not technology limitations. The Nuance Dragon Medical One platform includes industry-leading speech dictation software in the cloud so your staff can be productive anywhere. Clinicians produce documentation up to 45% faster and capture up to 20% more relevant content.
ABOUT US
Total Voice Technologies
We have been in the dictation, transcription, and speech recognition industry since 1990. We have helped 5,000+ customers by  providing them with professional dictation and transcription equipment and software, and the world's best selling clinical speech recognition software, Dragon Medical.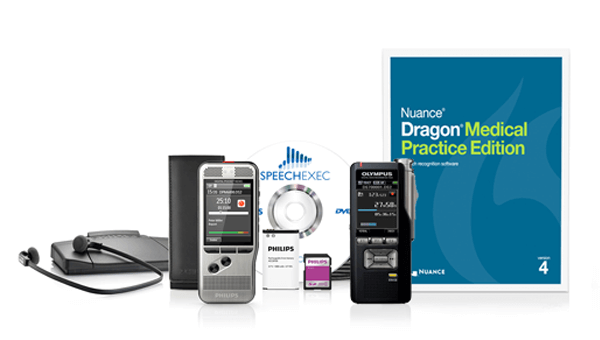 OUR LATEST POSTS
We are industry experts that enjoy sharing our industry knowledge, the newest products, and
the latest updates on innovative technology to make your work and life easier.
You know there sometimes just aren't enough hours in the day. But the good news is there has been an...
The use of electronic medical record systems have become the standard in hospitals and medical pract...
Dragon Medical Practice Edition is changing the physicians manage electronic health records by promoting greater efficiency with speech-to-text software solutions.