FEATURED CATEGORIES
Browse the most popular categories as selected by our customers that feature the industry's
best dictation and transcription products, and speech recognition software.
FEATURED PRODUCTS
Shop the best-selling, highest rated, and most purchased dictation and transcription
equipment and software chosen by our experts and over 5,000 customers.
The World is Your Workstation
Dragon Medical One
Dragon Medical One is the industry-leading cloud-based speech recognition solution. It gives users the ability to work anywhere in the world. Clinicians can produce documentation up to 45% faster and capture up to 20% more relevant content.
ABOUT US
Total Voice Technologies
We have been in the dictation, transcription, and speech recognition industry since 1990. We have helped 5,000+ customers by  providing them with professional dictation and transcription equipment and software, and the world's best selling clinical speech recognition software, Dragon Medical.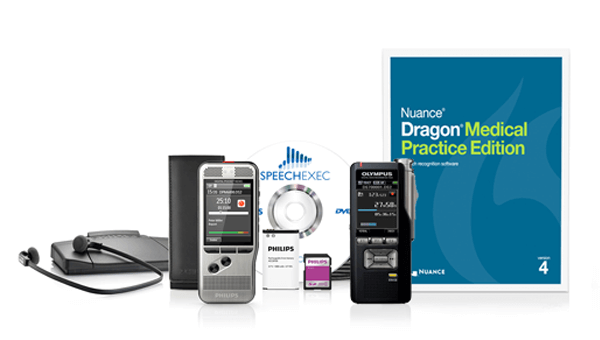 OUR LATEST POSTS
We are industry experts that enjoy sharing our industry knowledge, the newest products, and
the latest updates on innovative technology to make your work and life easier.
Choosing the best EHR system for your business can be an overwhelming and somewhat of a daunting task. There a...
Dictation vs. Typing. Which is better? If you are utilizing a digital voice recorder or speech recognition sof...
Starting a medical practice is no easy task, but it can be an extremely rewarding professional step. We hav...