Dragon Medical One
The #1 cloud-based clinical speech recognition solution in the world.
Dragon Medical One is an affordable cloud-based speech recognition solution. Advanced speech capabilities and documentation tools gives physicians and other clinicians the ability document complete patient care faster than ever.
This next generation AI-powered technology provides a personalized experience like no other. Imagine being able to document up to 45% faster and capture up to 25% more relevant patient information, whether in the office, at home, or on the road.
CHOOSE YOUR PAYMENT OPTION
EXPERIENCE THE DIFFERENCE
See Why 600,000+ Clinicians Have
Chosen Dragon Medical One
50%
Less Time Spent On
Documentation
As a result, clinicians are 54% more productive, shorten their workday by up to 2.5 hours, and can spend more time with patients.
25%
More Relevant
Content Captured
Using just voice, users are able to capture more complete and accurate clinical documentation up to 3x faster than typing.
98%
Recommend
Dragon Medical One
Dragon Medical One is highly recommended by some of the world's top physicians and leading healthcare organizations.
Boost Productivity and Experience Greater Flexibility
Simplify clinical documentation by being able to interact with virtually all EMR/EHR systems from anywhere in the world. Turn voice into an accurate clinical narrative for more complete and thorough documentation.
Achieve Higher Quality Documentation
EASY INSTALLATION
Quick installation options that work with the infrastructure you already have. There are no complex configurations, and automatic updates mean less work and less hassle.
QUICK SETUP
Manual activities such as accent adjustments and microphone calibration, are now automatic, providing greater accuracy, a lower word error rate, and an optimal experience from the start.
ALWAYS AVAILABLE
Designed for speed, accuracy, and flexibility with personalized vocabularies. Customizable templates that can be accessed and shared across devices anytime, anywhere.
HIGHLY ACCURATE
Using the latest deep-learning techniques and neural-network technologies, Dragon Medical One is able to achieve a 99% accuracy rate with NO voice profile training required.
SECURE & COMPLIANT
Employs secure encryption methods using a HITRUST CSF certified hosting infrastructure. Fully supports HIPAA requirements for patient security and confidentiality.
BUDGET FRIENDLY
Dragon Medical One offers affordable subscription based pricing starting at just $99/month with a small upfront capital investment makes it easier to budget with predictable expenses.
Affordable Subscription Based Pricing
$99
per month
1-Year Subscription
Cloud-Based
Automatic Updates
Unlimited Devices
Setup & Training Included
$89
per month
2-Year Subscription
Cloud-Based
Automatic Updates
Unlimited Devices
Setup & Training Included
$79
per month
3-Year Subscription
Cloud-Based
Automatic Updates
Unlimited Devices
Setup & Training Included
Read What Others Are Saying
About Dragon Medical One
I was tasked with finding a flexible clinical documentation solution. One that was not only user friendly but integrated seamlessly with our existing systems. I found Dragon Medical One to be the only solution that met that criteria. While also giving our providers a solid foundation to increase efficiency and obtain more patient information.
James Anderson
Chief Information Officer
Nuance PowerMic Mobile
With every subscription comes the Nuance PowerMic Mobile App. The fully secure app turns any Android or iOS smartphone into a wireless microphone.
This provides the flexibility to extend the capture of clinical documentation. For the first time ever users are able to truly work from anywhere in the world.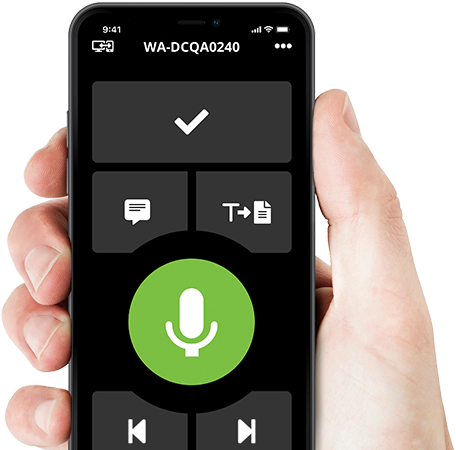 Frequently Asked Questions
What is Dragon Medical One
Dragon Medical One was specifically created for busy clinicians. It's a secure and affordable cloud-based speech recognition solution. Users are able to quickly and easily capture patient information. They can also navigate programs, browse the internet, compose emails, and more using just their voice.
How Accurate is Dragon Medical One
Users are able to speak naturally and attain an unprecedented 99% accuracy rate from the start. There is no voice training required. Accent adjustments and microphone calibration settings are now automatic. This ensures the highest level of accuracy. Also the lowest error rate in the industry.
How Much Does Dragon Medical One Cost
Dragon Medical One is a subscription-based product. It's available in 1, 2 or 3 year terms. Pricing is $99/month for a 1-year subscription. It can be paid month-to-month or prepaid for the entire term. A one-time implementation fee of $525 is required. The fee includes installation, training, and lifetime support.
How Do I Buy Dragon Medical One
Are you ready to buy Dragon Medical One? Great! It's super quick and easy to get started. First, choose your subscription term. Second, click the "Buy Now" button. Finally, review the pricing and continue. If you have any questions please reach out to one of our product specialists who will be happy to help.
Does Dragon Medical One work on a Mac
Yes, but you will need to install Parallels Desktop which enables Windows programs to run on a Mac. Once installed, the program will operate virtually identical as if running on a Windows PC. We recommend starting with a free trial to be sure Dragon Medical One is fully compatible with your system.
How Do I Use Dragon Medical One
Designed to increase productivity, Dragon Medical One is easy to use. Simply attach a microphone to your workstation or access the PowerMic Mobile App on your smartphone. The user settings, custom vocabularies, and templates can be accessed and shared across multiple devices.
Dragon Medical One Training
Every user that purchases will receive training from one of our implementation specialists. They will also be taking care of the installation and setup. In addition, show you how to optimize your workflow and provide ongoing support. This ensures that each user experiences a smooth transition.
Dragon Medical One Support
Our support representatives are always available to provide support, even well after your initial session. Just call, email, or chat with us. We can answer any of your questions and have the ability to remotely connect to your device, with your permission of course, for advanced troubleshooting.