Dragon Medical One
The #1 cloud-based clinical speech recognition solution in the world.
Nuance Dragon Medical One is the leading cloud-based speech recognition platform allowing physicians and other clinicians to use their voice to securely document complete patient care more naturally and efficiently.
Advanced capabilities and documentation tools provide a consistent and personalized user experience like no other. With Dragon Medical One users can document up to 45% faster and capture up to 20% more relevant patient information, whether in the office, at home, or on the road.
TRY IT FREE
Give it a try and see for yourself why everyone is moving to the cloud.
FREE 7-DAY TRIAL
Give it a try and see for yourself why everyone is moving to the cloud.
See Why 550,000+ Clinicians Have
Chosen Dragon Medical One
45%
Less Time Spent On
Documentation
As a result, clinicians are 30% more productive, shorten their workday by up to 2 hours, and can spend more time with patients.
20%
More Relevant
Content Captured
Using just voice, users are able to capture more complete and accurate clinical documentation up to 3x faster than typing.
98%
Recommend
Dragon Medical One
Dragon Medical One is highly recommended by some of the world's top physicians and leading healthcare organizations.
Boost Productivity and Experience Greater Flexibility
Dragon Medical One simplifies clinical documentation by giving clinicians the ability to interact with the EHR and turn voice into an accurate clinical narrative for more complete and thorough documentation.
Achieve Higher Quality Documentation
EASY INSTALLATION
Dragon Medical One has quick installation options that work with the infrastructure you already have with no complex configurations, and automatic updates mean less work and less hassle.
QUICK SETUP
Manual activities such as accent adjustments and microphone calibration, are now automatic, providing greater accuracy, a lower word error rate, and an optimal experience from the start.
ALWAYS AVAILABLE
Dragon Medical One is designed for speed, accuracy, and flexibility with personalized vocabularies and templates that can be accessed and shared across devices anytime, anywhere.
HIGHLY ACCURATE
Using the latest deep-learning techniques and neural-network technologies, Dragon Medical One is able to achieve a 99% accuracy rate with NO voice profile training required.
SECURE & COMPLIANT
Dragon Medical One employs secure encryption methods using a HITRUST CSF certified hosting infrastructure that supports HIPAA requirements for patient security and confidentiality.
BUDGET FRIENDLY
Dragon Medical One offers affordable subscription based pricing starting at just $79/month with a small upfront capital investment makes it easier to budget with predictable expenses.
Affordable Subscription Based Pricing
$79
per month
3-Year Subscription
Cloud-Based
Automatic Updates
Unlimited Devices
Setup & Training Included
$89
per month
2-Year Subscription
Cloud-Based
Automatic Updates
Unlimited Devices
Setup & Training Included
$99
per month
1-Year Subscription
Cloud-Based
Automatic Updates
Unlimited Devices
Setup & Training Included
Read What Others Are Saying
About Dragon Medical One
I was tasked with finding a flexible clinical documentation solution that was not only user friendly but integrated seamlessly with our existing systems. Dragon Medical One was the only solution that met that criteria while giving our providers a solid foundation to increase efficiency and obtain more patient information.
James Anderson
Chief Information Officer
Nuance PowerMic Mobile
With every subscription comes the Nuance PowerMic Mobile App, allowing users to turn any Android or iOS smartphone into a convenient, wireless microphone.
For the first time ever users are able to truly work anywhere, providing unsurpassed flexibility to extend the capture of clinical documentation.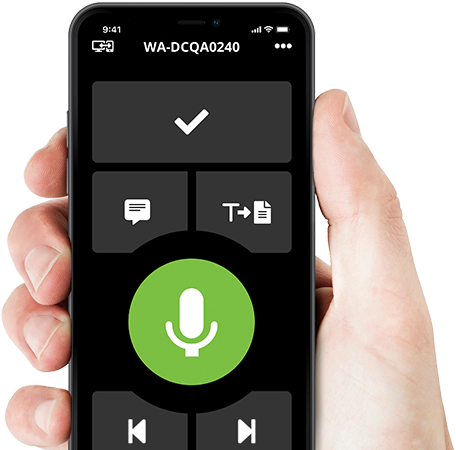 Increase Documentation Quality
Dragon Medical One is all about portability, personalization, insights, and compatibility.
PERSONALIZED PROFILES
Having a single Nuance Healthcare ID profile across platforms allow users to get up and running immediately across clinical workflows, care settings, devices, and apps for a seamless experience.
FULLY PORTABLE
Work from any workstation or pair with PowerMic Mobile App, Nuance's secure wireless microphone app, for the absolute most freedom to dictate from virtually anywhere at anytime.
HANDS-FREE
The hands-free convenience with wake-up and always listening mode offer users better control, ease of use, and greater freedom, allowing them to simply say "Hey, Dragon" to turn on the microphone.
SEARCH CAPABILITIES
Retrieve clinically relevant information with clinical content using UpToDate® by Wolters Kluwer to ask questions such as "Hey Dragon, search UpToDate for pediatric hypertension treatment options."
PRODUCTIVITY TOOLS
A growing suite of built-in productivity tools and access to speech-enabled workflows in supported mobile productivity apps, at NO additional cost, including the Dragon Medical Clinical Calculators.
ACTIONABLE INSIGHTS
The self‑service user portal provides utilization data, adoption trends, and peer bench-marking tracking to ensure user efficiency and help with the design of action plans for overall improvement.